Digital Marketing for Real Estate Professionals
Mystyc New Media has extensive experience working locally in a hands-on capacity with individual real estate agents and agencies to facilitate custom digital marketing efforts so you don't fall short. What we have discovered is that all the Lead Generation services you subscribe to will only contribute so much. And in today's economic climate and the real estate market stretched as it is, it is critically important that you are branding yourself in a way that sets you apart from the competition and that is sustainable into the future.
View Real Estate Digital Marketing Packages
 Tools of the Trade
We leverage the digital marketing tools you are familiar with, from your logo and web site  to your social media channels, blog, etc.. We will utilize all industry partners like Wise Agent CRM for Contact Management and Drip Marketing Campaigns and XpressDocs for Brand Management to IDX Broker for Listing Integrations, Canva for visuall appealing Instagram, Facebook and Linkedin Posts, along with many more resources to promote You, Your Agency, Listings, Under Contracts and Solds, and Solicit New Listings and Buyers!
We'll utilize KCM (Keeping Current Matters) among other outlets to keep your Real Estate Blog posts up to date, relevant and robust. We'll update and post to your Linkedin Business and Personal pages, Instagram, Facebook and others and we'll help grow your email list and send out regular e-Newsletters through MailChimp or Constant Contact.
Most importantly, all of our efforts will be tailored with  your personal brand in mind first and foremost.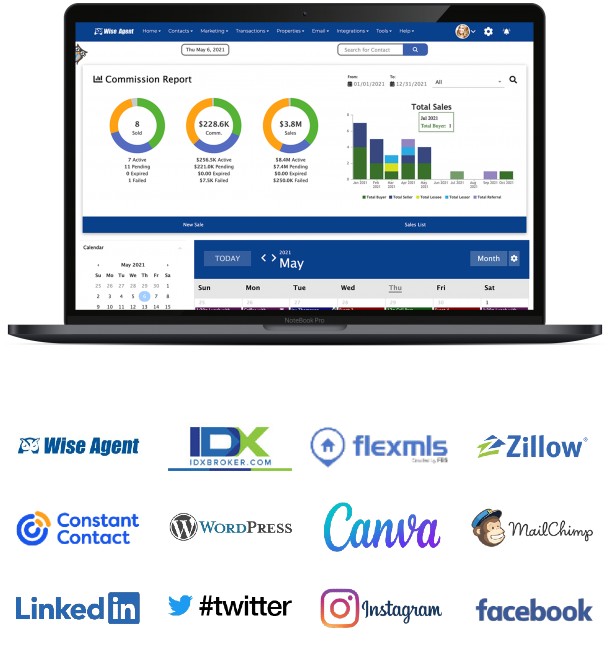 Digital Marketing Packages for Real Estate Professionals
Standard Agent Package
Graphics Design
'Bi-Weekly' Social Media Posts
'Monthly' Blog Post
'Monthly' e-Newsletter
SEO Analysis
–
–
Premium Agent Package
Graphics Design
'Daily' Social Media Posts
'Weekly' Blog Post
'Bi-Monthly' e-Newsletter
SEO Analysis
'Weekly' Web Site Refresh
Listings Management
 Integrated Partners